MINISTERS of Local Government and Regional Development (LGRD), Nigel Dharamlall, and Anand Persaud, on Monday, met with Georgetown Mayor, Ubraj Narine, to establish a good working relation with the Mayor and City Council (M&CC).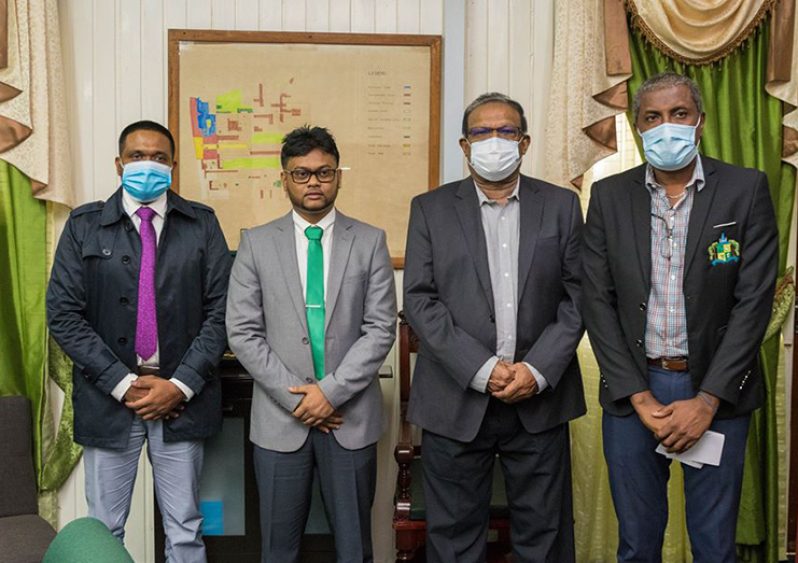 Speaking about the visit at a subsequent press conference at the Arthur Chung Convention Centre, Dharamlall established that the development of the City is at the forefront of the ministry's plans going forward.
"It is part of the mandate of the government that we would have to elevate Georgetown to a higher level and very soon the Ministry of LGRD will establish an inter-ministerial committee to work closely with the residents of Georgetown, to ensure that elevation happens very soon and in the best interest of national development," Dharamlall declared.
Also present during the courtesy call was Deputy Mayor, Alfred Mentore. With the ministry needing to work closely with the Council for the development of the city, the two sides discussed renewed relationships.
"We had a very cordial meeting. We discussed generally how we would like to work more closely with the residents of Georgetown and what is our modus operandi in collaborating with the Georgetown M&CC and what is our modus operandi in the reverse where the City Council operates with Central Government," he related.
Dharamlall sees the collaboration as the beginning of a process which will ensure all is well in the future.
MORE