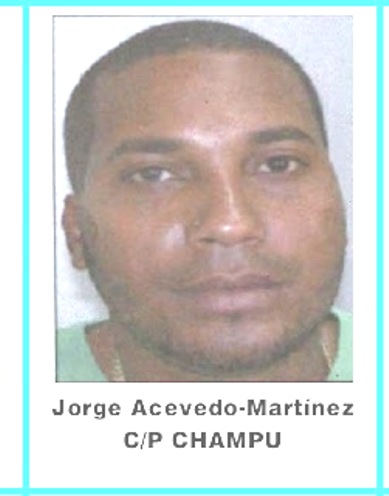 The U.S. Marshals Service led Puerto Rico Violent Offenders Task Force (PRVOTF) announces the arrest of Jorge Acevedo Martinez aka "Champu" in an exclusive residential area of the Dominican Republic capital.
Acevedo Martinez was arrested by U.S. Marshals assigned to the Dominican Republic and members of the National Directory for Drug Control (DNCD). Acevedo Martinez was considered one of the most dangerous drug traffickers in recent times and has been a fugitive since 2014.
After a four year investigation, U.S. Marshals assigned to the PRVOTF located Acevedo Martinez in the Dominican Republic capital Santo Domingo. During the arrest the DNCD seized US$483,000 in cash, three pistols, Venezuelan false identification cards, three luxury vehicles and over 500 ammunitions. Additionally, a Spanish citizen and Acevedo's consensual partner were also arrested.
Acevedo Martinez is the last member of a violent drug trafficking organization led by Carlos "Cano Gurabo" Morales Davila and Jose "Cheo" Silva. This organization was disarticulated in December of 2014 during operation "Lost Paradise."
Acevedo Martinez faced an expulsion hearing in the Dominican Republic and will be extradited to Puerto Rico to face federal money laundering and drug charges.
The US Marshal for the District of Puerto Rico, Orlando Rivera and the U.S. Attorney, Rosa Emilia Rodriguez were grateful for the cooperation and assistance of the Dominican authorities, and expressed "we will go beyond our jurisdiction to find and arrest any fugitive."