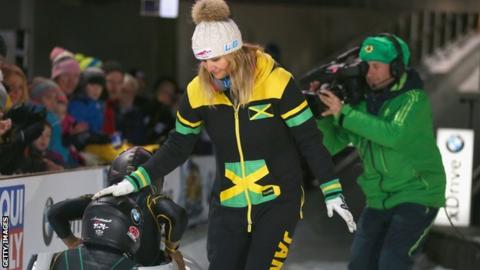 The Jamaican women's historic Winter Olympics bobsleigh debut is under threat after their coach quit and threatened to take the team's sled.
German Sandra Kiriasis, an ex-Olympic champion, claims she was forced out when her role was changed, and that she is legally responsible for the sled.
Kiriasis wants payment for it but the Jamaica Bobsleigh Federation declined and is disputing she owns the sled.
"I've never known such disappointment in this sport, in my life," she said.
Kiriasis said she had to quit after refusing to change roles from driving coach to track performance analyst, which would have given her no access to the athletes.
The sled situation remains unresolved, with the JBF denying their team will have to pull out of the event.
Kiriasis, who won Olympic gold in 2006, said it was her contacts which led to the team securing the sled.
Jazmine Fenlator-Victorian and Carrie Russell are hoping to become the first Jamaican women competitors – 30 years after the Jamaican men, who inspired the film Cool Runnings, made history in Calgary.